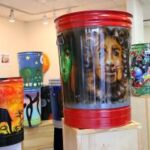 Students and members of the PJC Art League have decorated trash cans that are on display at different locations along the trail.
"Each can is an original work," said PJC art instructor Susan Moore. "The subject matter ranges in scope from deep space and the solar system, to mystical figures, and everything in between such as landscape, patterns, social commentary, and animals. Students used as assortment of media, such as house paint donated by Sherwin Williams to the Friends of the Trail, their own acrylic paint, wallpaper, and magazine scraps. They have also used an assortment of techniques that include air brush, collage, sponge painting, spray painting, straight painting, drip painting, and the use of templates made from tape and twine. Each can is a unique artistic statement, and will be colorful reminders to please keep Paris beautiful and use the trash cans along the Trail de Paris!"
Project participants in are: Baron Capers, Chelsea de la Rosa, Stephanie Eller, Riley Hodnett, Amanda Lair-Barnett, Jenaveve Lester, Mario Munguia (PJC graduate), Anita O'Neal, Alex Ricketts, Montel Thomas, Candra Wyatt, and Susan Moore.
Come out and enjoy the art and the fresh air!