The Chaparral Trail in Farmersville
Before planning your trip, please review the Rules and Campsites posted on the NETT Coalition website.
Overview: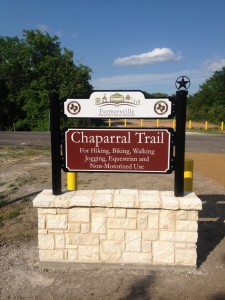 Our trail begins at the Audie L. Murphy Head near the Historic Onion Shed in Downtown Farmersville, a restored building from the 1930s that was once used as a loading dock for the onion industry. You can enjoy 2.5 miles of concrete, and 2.5 miles of granite maintained by the City of Farmersville or, travel as far as 132 miles to New Boston on this secured and primitive trail which was previously used as the railroad right-of-way. When the pavement ends, expect a crushed stone surface suitable for hiking, mountain biking, or horseback riding.
The trail was developed for the purpose of hiking, biking, walking, jogging, sight seeing, and horseback riding. Many geocache locations exist along the Chaparral Trail. There is ample parking, a covered pavilion with picnic tables and restroom facilities all within walking distance of Farmersville.
The Chaparral Trail is a premium rural and urban trail which is perfect for various types of recreation and entertainment venues. The trail boasts miles and miles of unspoiled natural beauty making this trail especially a treat for nature enthusiasts, bikers and hikers.
The Chaparral Trail is maintained by the city of Farmersville. For questions, please contact City Manager Ben White at (972) 782-6151 or b.white@farmersvilletx.com.
We call The Chaparral Trail Farmersville's Treasure
Distance
5 miles
Surface
This multi-use trail consists of a combination of asphalt and concrete for 2.5 miles and the other 2.5 miles is stabilized concrete granite.
Condition
Very good.
Access points
Onion Shed Trailhead
View Map
Road Crossings
Appropriate for
Walking, running, biking
Campsites
The public is asked to contact the person listed for each trail town to make reservations for camping. A complete list of campsites and contact information is posted on the NETT Coalition website.
For camping in Farmersville (City of Farmersville):
Contact Person – City Manager Ben White (972) 782.6151 or b.white@farmersvilletx.com
Additional Information
FarmersvilleChamber.com
FarmervilleTX.com
Audie Murphy Day
Farmers & Fleas Market
Local Emergency Contact Information:
Farmersville PD – 972.782.6141 BUT USE 9-1-1 for emergencies
Collin County Sheriff's Office – 972.424.4797 BUT USE 9-1-1 for emergencies
Emergency /Medical – 9-1-1
---
Hotels/ Lodging
Find Hotels Near Farmersville/Merit
Dining
Find Restaurants Near Farmersville/Merit
Upcoming Events
Area Attractions
Audie Murphy Day:
Yearly celebration of our local Veterans and remembrance of our "Hometown Hero"- Audie Murphy. Free!
Next one will be June 18, 2017.
Includes flyover, parade, special receptions for Veterans, and a program under the Onion Shed.
More info here: www.FarmersvilleTX.com
Farmers & Fleas Market:
First Saturday of each month, 9am – 3pm (except for October). A combination Farmers Market and Flea Market at the restored Onion Shed in downtown.
For more information, see city website under Main Street tab: www.FarmersvilleTX.com
Now in its 12th year, this is a Main Street event which introduces visitors and shoppers to our downtown area.
Events:
Annual Trick it Up Bicycle Ride (check website for date announcement)
The Cotton Patch Challenge, Saturday, September 16, 2017 in Greenville.
Other Attractions:
Great parks amenities, including a Splash Park, Southlake park (with fishing lake and a perfect place for the 4th of July fireworks), and the historic restored Onion Shed!
---
Gallery:
---
Local Weather:
| | |
| --- | --- |
| [awesome-weather location="Farmersville, TX" units="F" size="tall" override_title="Farmersville, TX" forecast_days=3 hide_stats=false background=0] | [awesome-weather location="Merit, TX" units="F" size="tall" override_title="Merit, TX" forecast_days=3 hide_stats=false background=0] |